Long Range Sensors (From 0.1 M to 3000 M)
AR1000 LASER DISTANCE SENSOR
AR2000 LASER DISTANCE SENSOR
AR2500 LASER DISTANCE SENSOR
AR3000 LASER DISTANCE SENSOR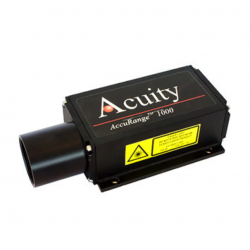 AR1000 Laser Distance Sensor
AR1000 can measure 30 meters with an accuracy of 3 mm. Using a reflective target board, the sensor will measure distances up to 150 meters.
Typical data outputs are serial RS232, RS422 (optional) and current loop 4-20 mA signals.
Highly versalite, able to measure distances both indoors and outdoors, but may have limitations to extremely dark targets or measuring through steam, fog and smoke where the signal is obstructed. However, the AR1000 measure to hot, glowing steel near 1000°C
A special AR1000H version is available with an internal heater, making the sensor suitable for operation to -40°C (-40°F).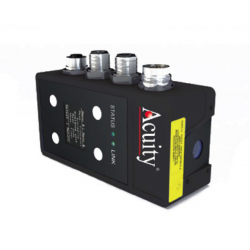 AR2000 Laser Distance Sensor
The AccuRange 2000 Laser Distance Meter offers measurement accuracy of 1mm (.04 in) across distances up to 500 meters, and even works on hot surfaces and in bright lights!
Perfect laser for a wide range of applications, including measuring the position of cranes; measuring the length of lumber, pipe, bricks, and other targets; measuring the position of hot metal targets, such as steel, aluminium and much more!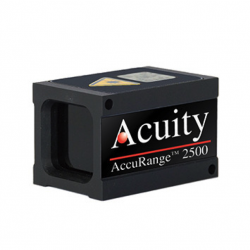 AR2500 Laser Distance Sensor
AR2500 laser sensors are Acuity's ultra-compact rangefinder models. This eye-safe rangefinder can measure to 30 KHz to natural targets 30 meters away or to reflectors 260 meters away.
Typical applications include high-speed vehicle height profiling, bridge crane monitoring, trolley positioning and altitude measurements amongst others.
It's high sampling rate of 30 KHz makes ideal for scanning applications as well.
The sensor device has an eye-safe, infrared laser (Class 1).
AR3000 Laser Distance Sensor
AR3000 distance measurement sensors are Acuity's longest-range models.
The time-of-fight sensor can reach 300 meters to normal surfaces and up to 3000 meters when using a reflective target.
The AR3000 samples with speeds up to 2 KHz.
AR3000 is an eye-safe (Class I) infrared laser device with an on-board visible aiming pilot laser (Class 2) that can be manually turned on and off.