SPECIAL VISION TOOLS
Teledyne Dalsa vision tools and capabilities allow you to tackle a wide range of industrial applications. Included are a variety of specialty tools that have been specifically designed to simplify difficult inspection tasks.
AUTO TRAIN ROI TOOL
To construct a checking window to follow an irregular shape is often very tedious and not consistent if more than one person to do the training. Auto Train ROI Tool can train any irregular shape to become the checking window , thus it can detect the defects within the boundary correctly.
CONTOUR TOOL
The Contour tool is used to measure the consistency of an arbitrarily shaped contour (continuous edge). The tool traces an edge during setup and detects deviations at runtime by measuring edge point positions along each respective rake line. Missing edges indicate a discontinuity in the edge.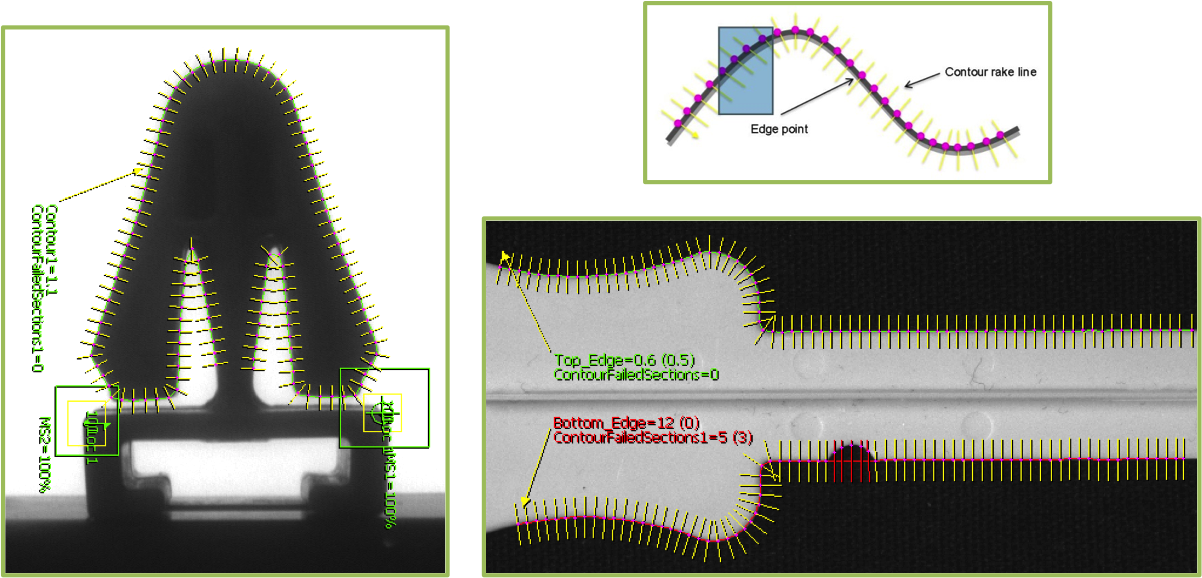 SPRING TOOL
The Spring tool is a specialty tool used to measure length, pitch and diameter (width) of a spring or any wave like object. The Spring tool detects the peaks of each coil and then fits lines between the peaks to calculate the average measurements. The minimum and maximum position of the peaks are reported along with the standard deviation of all peaks.
THREAD TOOL
The Thread tool is a specialty tool used to measure the Pitch, Inner Diameter, Outer Diameter, and Angle of a solid threaded object. The Thread detects the peaks and valleys of each thread, to calculate the measurements. Minimum, maximum, and standard deviation of pitch and diameters are reported. If both ends of the bolt appear inside the ROI, the length can be measured. Pitch angle can be measured for either right-hand or left-hand threads.