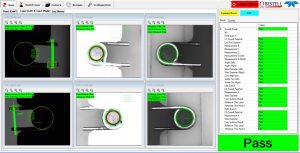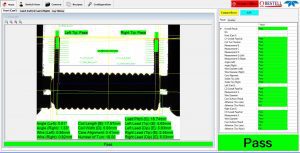 Coil Inductor AOI machine is developed to ensure the quality of post-assembled inductors are well kept. 3-camera vison system is used to check front view, both left and right sides of the Coil Inductor. Checking main defects such as core misalignment, core chipped-off, core cracked, adhesive leaking, too much or too less. On top of that, the vision system is also do measurement on various dimensions on the product, especially lead bent that cause issue for insertion to PCB board for customer process.
This is a semi-automated machine that the operator will load the coil to a jig that holds just nice on it and the machine will take over the rest of the sequence control and vision inspection. Good product will automatically transfer to a conveyor for next process, reject coil will drop into a bin collector.
This vision inspection machine replaces human inspection and capable to have reliable and consistently checking without failure. Operator will free up to handle non-quality checking task and focus on more on production handling procedures. The ultimate goal is to improve productivity and quality control. With this combine efforts of both man-machine, it can implement faster at production floor without spending large budget for full scale automation.